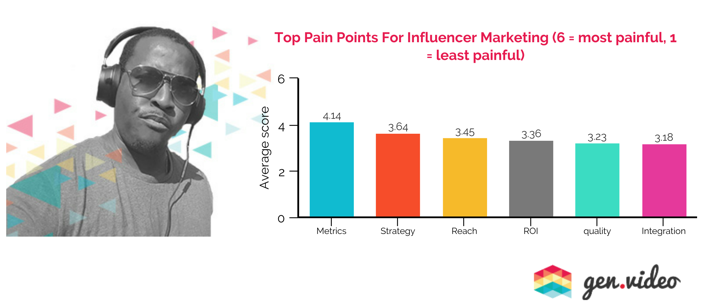 We are pleased to share the first set of results from our first research study of the year, State Of The Union For Influencer Marketing, Trends and Best Practices For 2017. In this study we looked across CPG, Health & Beauty, Electronics, Software, Apparel and Durables. Brand participants were asked to complete a series of questions focused on how their organization is currently leveraging influencer marketing and expected change in 2017.  We will be releasing new infographics weekly from the study including investment trends and content trends.
To read the full report download now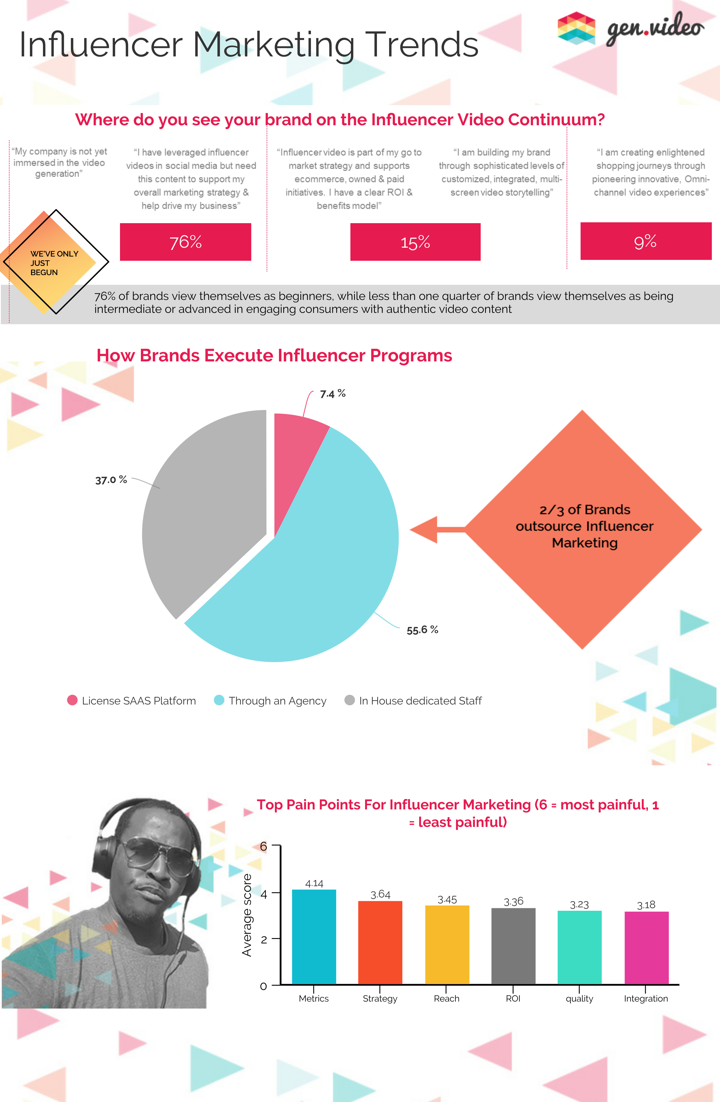 Where Does Your Company Fall On The Influencer Video Continuum?
A key place to start is a self-assessment with brands placing themselves on what we call the "Influencer Video Continuum." The gen.video continuum is intended to provide an industry roadmap that gives organizations strategic milestones to move to best-in-class transmedia storytelling. Brand responses were a bit surprising in that 76% ranked themselves as beginners and less than one quarter of brands ranked themselves as intermediate or advanced,
Outsource or In House?
The majority (2/3) of brands are outsourcing their Influencer Marketing initiatives.   Whether licensing a platform or using an agency, choose a partner that can be strategic and develop the right mix of influencers to create content based on objectives/budget and has a clear roadmap to lead your brand to best practices.
Top Pain Points for Influencer Marketing
As indicated in the infographic, we found that all pain points ranked highly. This indicative of a new industry in need of best practices. Top 3 ranked pain points were lack of metrics, lack of strategy and lack of reach.
Important Questions to Ask When Planning Influencer Marketing
Is influencer marketing a strategic priority for your organization? Do you have the right strategic resources internally and externally? Does influencer marketing have a seat at the planning table?
Is your organization and agency partners organized to plan and execute influencer marketing in a seamless, integrated fashion?
Do you have a best practice approach to influencer marketing? What is the learning plan? In a year from now will you have best practices and benchmarks for engaging your target consumers in the video generation?
Do you have a scaleable content plan to effectively leverage assets for transmedia storytelling – digital media, ecommerce, shopper marketing?
We hope you find our inaugural study helpful, thought provoking and a springboard for a more strategic organizational approach to maturing our industry. We will be sharing additional results shortly!