Welcome to gen.video's first installment of our Featured Influencer blog series! Every week we will be featuring talent from the gen.video community of creators who are using video to engage with their own communities and followings about their favorite interests as well as products from the brands they love.
CHECK OUT THIS WEEK'S INFLUENCER
Featured Influencer: Gena M.
YouTube Channel: GetGlammedUp!
Subscribers: 65,852
Views: 7,786,583
Joined YouTube: 2010
Since 2009, Gena has been blogging and creating videos about beauty and fashion, two topics that she absolutely loves to talk about. She also occasionally writes about personal experiences in her daily life.
Since creating her YouTube channel in October 2010 to serve as an extension to her blog, Gena has been creating videos for her subscribers that contain a mix of makeup how-tos and tutorials, fashion advice, and personal videos about her life and shopping. Her goal is "to help everyone achieve the look they deserve, and at an affordable price."
Gena reviews a wide variety of products on her channel. From makeup to hair, nails, fashion and shopping, Gena has an obvious passion for making videos, and she's pretty great at it!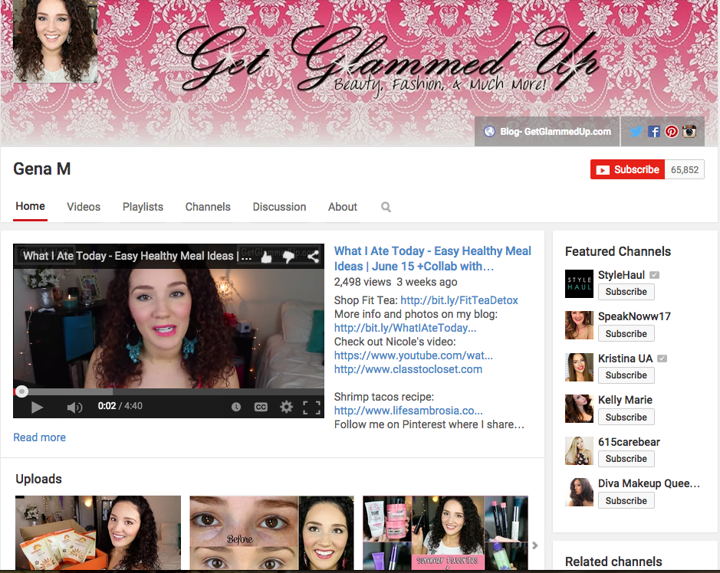 Gena clearly puts a lot of time and effort into her videos. The quality of the recordings, the entertaining structure of her videos, and her natural ability to engage the audience, all make her a fantastic video influencer for any company in beauty or fashion.
What's great about Gena is that she shares her knowledge with other influencers. In this video, Gena gives advice on how to start your own YouTube channel, including what features to include and what type of setting to record your videos in.
FEATURED VIDEO
Gena is clearly talented, engaging, and influential in the beauty and fashion world. She's got many great videos, but one stood out to us that we think clearly exemplifies her talent and skills.
What's so great about this is that it checks all the boxes for what makes a quality influencer video:
High quality picture
Uses the product in context
Gives best practices for using the product
Clearly describes the benefits
So how can you work with Gena in order to influence consumers about your brand and product? Check out gen.video's influencer video marketplace and get connected with video influencers just like Gena.
Be sure to subscribe to her YouTube channel, where she uploads new videos every Sunday and Wednesday.
Want to learn more about Gena? Follow her on the following social channels below:
BLOG: http://www.getglammedup.com
TWITTER: http://www.twitter.com/GlamMeUp
FACEBOOK: http://www.facebook.com/GlamMeUp8
INSTAGRAM: http://instagram.com/glammeup
GOOGLE+: http://gplus.to/GlamMeUp
PINTEREST: http://www.pinterest.com/GlamMeUp
The Influencer Highlights Series feature creators from the gen.video platform who are using video as a platform to showcase their interests and talents as well as participation in the latest campaigns. For more information about gen.video and how to signup as a creator, please visit http://gen.video/creators.
Come back in a week and check out our next Featured Influencer! Who will it be? I guess you'll just have to come back and find out.