One of the most important things to understand about today's modern eCommerce buyers is that they are, by and large, more educated than they've ever been up to this point.
According to one recent study, today's modern consumer is more informed, more connected, and more demanding than previous generations. Roughly 81% of people say that they regularly read customer reviews and ratings before making a purchase. But more than that, people are watching videos from other users about the purchases they want to make and they're contributing to online forums and listening to podcasts.
According to our own influencer marketing research, 90% of social media users are influenced to make a purchase after seeing content on social media. However, they're very selective about who they choose to give their hard-earned money to, and the COVID-19 pandemic has only exacerbated that fact.
This, in essence, is why it's so important to shift the emphasis of your digital marketing strategy away from straight selling and into a realm that focuses on education above all else. Consumers do a significant amount of research before making a purchase — this isn't something you can change. All you can do is control where those research materials come from, which is why materials like consumer buying guides have become hugely important in the modern era that we're now living in.
The Importance of Consumer Education
According to another recent study, educational-driven content makes consumers 131% more likely to buy than those who are exposed to more "traditional" advertising messaging. If you needed a single statistic to outline the importance of educational materials like buying guides on your audience, let it be that one.
While it's absolutely true that this level of educational content helps increase your brand's purchasing power, it also builds something so much more important than that: trust. People don't want to purchase from just anybody. They often have more "choice" than they know what to do with. Brand trust is what makes them feel confident to that end, and educational content like eBooks, white papers, and buying guides is absolutely how you get there. That earned trust translates into a stronger relationship between influencers and consumers.
The chart below from gen.video research shows how much of an influence videos and social content have on various verticals.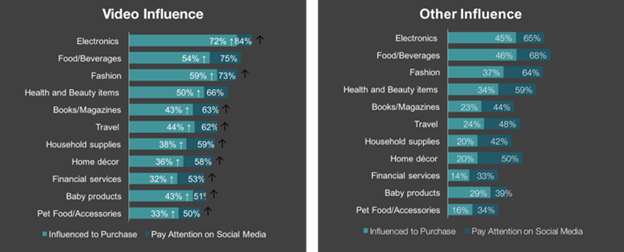 Another recent study revealed that 86% of consumers said that authenticity was one of the key factors they look to when deciding what brands to like and support. You need to offer them something they're not going to be able to get anywhere else — the peace of mind that only comes with knowing they're giving their money to a brand that is authentic in how they present themselves to the world and how they operate.
This simple idea is also a big part of the reason why influencer marketing has become so popular (and effective) in a relatively short amount of time. Roughly 70% of consumers in the teenage demographic in particular say that they trust online influencers more than traditional celebrities. Roughly 49% of consumers say they depend on influencer recommendations before making a purchase. Consumers feel like influences are more likely to be honest and real than a more traditional piece of marketing collateral ever could. Their opinions carry a significant amount of weight because behind them is something that cannot be bought, but that must instead be earned: trust.
When you put together something like a buying guide, it's more than just a passive marketing document. It helps consumers understand the options that are available to them, and it helps them find a more personalized solution that they may not have been able to arrive at on their own. It puts them in complete control over the buying experience and lets them truly vote with their wallet — which is exactly what people have wanted all along.
In the end, educational marketing collateral is a great way to play to the modern consumer's urge to do more research than ever, yes. But when executed properly, it also accomplishes so much more than that. It helps you develop and nurture a legitimate relationship with your audience.
If you're looking to develop customer education material for ecommerce, contact us today to see how we can help with that and with influencer marketing as a whole on our platform. Also, we just released our 2021 Influencer Marketing and Social Commerce Report filled with great data and insights on industry trends by vertical.