The holidays are upon us and this year we're facing a shorter shopping window between Thanksgiving and Christmas making the competition to reach shoppers tougher than ever. For marketers, it's worth taking the time to re-evaluate your holiday marketing approach to ensure you're implementing the best strategy this holiday season.
Here are our top tips for holiday success:
1. Identify Your MVP Customers
Whether you're trying to target millennial moms on Instagram or gaming-obsessed teens on Twitch, think about the influencers who can help you reach this audience and consider using enticing promotions or giveaways to drive action and engagement. At gen.video, we not only have a vast network of influencers across all different verticals, but we also provide an in depth look at our influencers' audience demographic data so you can reach your target consumers.
2. Develop a Measurable Strategy
Think of the holiday shopping season as marathon, not a sprint. As you focus efforts and dollars on driving awareness and discovery early in the season, identify the KPIs that will help you determine whether your efforts were successful. Metrics like reach, impressions, clicks, and video views will help you measure success.
Our social attribution analytics platform can help you seamlessly track these metrics and deliver the data driven results you need. You can even see which influencers are driving the most traffic and conversions for your brand so you can engage them down the road in future campaigns.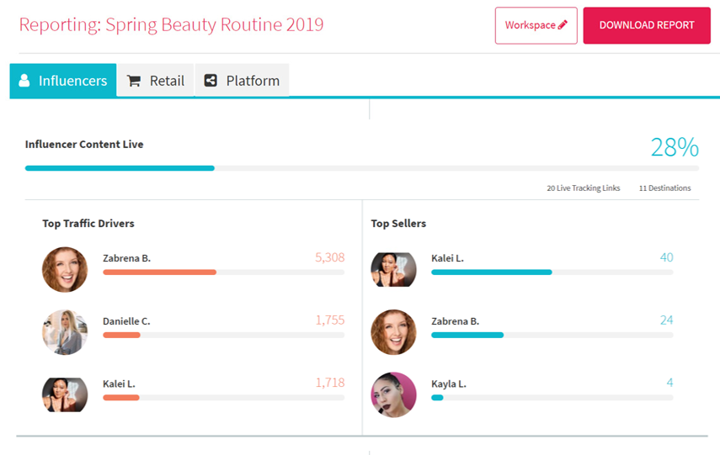 3. Deliver the Inspiration Shoppers Seek
Before shoppers make their lists, they're searching online and on social media for gifting inspiration from their favorite influencers. According to research done by Google, thirty-four percent of people say that discovering new products and getting ideas are aspects they enjoy most about shopping. The holidays are the perfect opportunity for you to reach and inspire shoppers with meaningful influencer content.
A great way to optimize your campaigns for success is to make sure that your influencers are leveraging trending keywords such as "gift guide" or "best electronics" in their content during this peak gift-giving period to reach the inspiration seeking audience in search mode.