Illuminating consumer experiences has been the company's mission from the beginning. Today, the experience of many consumers is changing. The way we work. The way we learn/teach our children. And the way we shop. A simple trip to the grocery store has been replaced with learning how to use Instacart or Walmart Online Grocery Pickup. For many, the concept of buying groceries online is not only foreign but considered something they'd never do. Another thing that has changed is the type of content or the amount of content people are watching on YouTube. What has remained the same is the power of storytelling and the way in which video can illuminate an experience and help spread joy from one part of the world to another during a time when social distancing has become the new normal.
The gen.video platform is tracking the traffic from sponsored content on YouTube into the retail channel and we wanted to share some trends that we are seeing around what people are buying more/less of as a result of the shift to sheltering at home over the last month or so.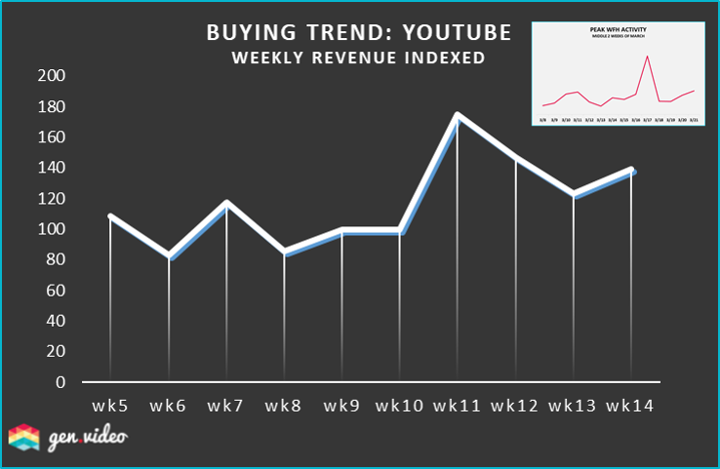 Beginning in February (Week 5 of 2020) you start to see a steady increase in actual purchases coming off the traffic sent by existing YouTube content. The important thing to note here is that unlike Instagram, YouTube acts as more of a search engine and so influencer content from 2 months or 4 years ago can continue to provide comfort and information to consumers looking for answers. Many top tech Youtubers have videos around desk setups, remote working and smart home technology that are seeing pops in viewership and resulting purchases.
The little box in the top right looks at the middle two weeks of March, where you can see somewhere between 3/15 and 3/17 an influx of activity at the time when many companies switch to work from home.
From there we were able to look at the transactions and mapped them into defined groups of product categories related to shelter at home behaviors and habits that are emerging. To simplify things, we looked at the thousands of sub-categories defined by retailers into 5 buckets.
COVID-19 SHOPPING CATEGORIES
Grocery: Anything you'd buy at a grocery store and so think beyond the kitchen. All consumables including pet supplies, cleaning products and paper goods will fall into this bucket.
Entertainment: Many electronic purchases including video games, soundbars and accessories to upgrade your setup. Also counts books and digital downloads and fitness gear.
Beauty & Health: While much of this can be purchases at a grocery store, we've pulled out cosmetics, supplements and more personal wellness items as we think it speaks to a different mindset.
Home: Spanning furniture and decor, we've consolidated many kitchen gadgets, electronics and even DIY tools into a general category for stuff around the house.
Work From Home: Anything and everything you need to set up to be productive in your daily job in a home environment. From laptops to pen & paper we've bucketed all productivity needs.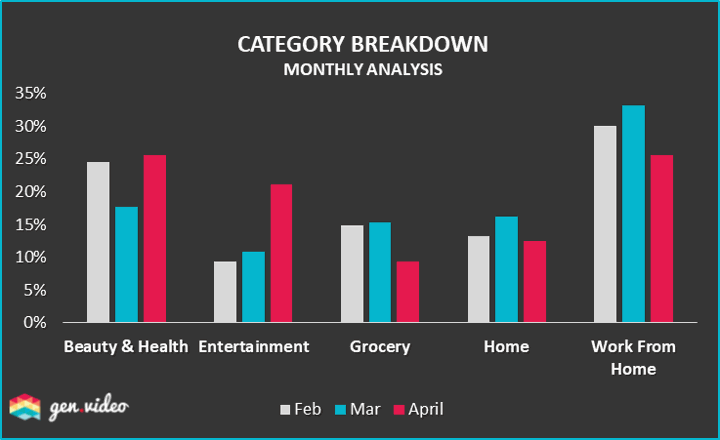 The two most interesting observations here are as follows:
In March... WFH purchases increase 26.7% from January numbers and then are now leveling off to January levels.
April seems to be all about keeping yourself entertained with lots of eBooks, movies , video games and toys for kids. Entertainment purchases up 195.6% from March with two weeks to go.
Will continue to monitor how social content AND social distancing are impacting the way we shop and what we buy. Until then, stay safe & health!
Stats: Looking at 283 videos from 121 YouTube channels that have generated over 3.6M views and have sent 137,000+ people to top retail websites.