If you're reading this blog, chances are you've watched a video or two of someone sharing their experience with a product. And for many, YouTube is the go-to destination to find information about a product before making a purchase. So it shouldn't come as much of a shock to see many retailers looking to provide this type of content to shoppers and centralize the experience.
Amazon has really dedicated itself to bringing video front and center. Videos can be found on product pages in a variety of locations, in search results and in a dedicated area of their site. The videos span from professionally produced videos from manufacturers to authentic influencer videos. The area on Amazon.com that acts as the primary home for video content is called Amazon Video Shorts and it has been around for little over a year, yet many creators, shoppers and brands are still just hearing about it for the first time.
This post is going to try and provide more clarity around the opportunity it presents for influencers and brands and guide you through the process for getting started.
What it means if you are a content creator / YouTube Influencer
Growing your channel on YouTube and building your own brand is typically something any experienced and dedicated content creator wants when deciding to invest any significant time in growing a following and filming videos. Right now, the most obvious ways to monetize your channel and the content you create is to enable YouTube to run advertisements against that content. YouTube shares some of the revenue back with you. You can read more about that here. Then there are brand sponsorship and brands and agencies will pay you a flat fee based on the size of your channel to produce a video that typically integrates their brand or product into it in an organic way.
Amazon Video Shorts is now another avenue for monetization for members of the gen.video network as a result of the unique programming partnership with Amazon. When using the gen.video platform to upload and publish content to YouTube, this free content distribution channel is opened up. It isn't available anywhere else… unless you have a direct relationship with the awesome folks that work at Amazon. Just like YouTube, ads can run in front of the content and a portion of the revenue is shared back with you through the gen.video platform. All you need to do is start using the gen.video platform to upload your videos to YouTube and during the process you'll be asked if you want to make the video available to Amazon Video Shorts as well. Upon checking the box, we make sure your video gets made available to the retailer as well and we let you know how much money you've earned from the ad split on a monthly basis.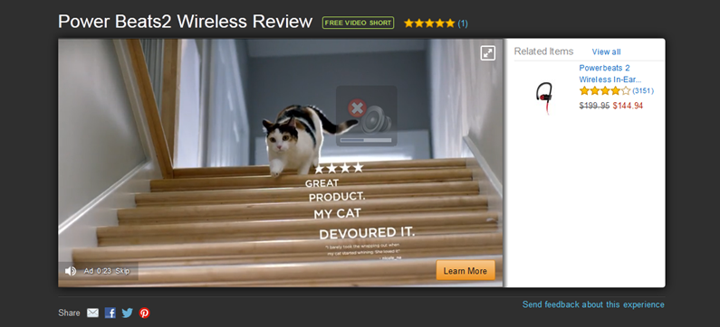 What it means for brands and agencies
Video has been proven to help educate shoppers and when made available on a product page can drive conversion rates by upwards of 20%. Influencer videos in an eCommerce environment can help provide a lot of information in a short amount of time. Videos are now showing up in search results and that presents an opportunity for brands to get their products discovered – even if they are not organically ranking on page one in Amazon search. A little lower on the page, you can typically find a strip of related videos populated by content from the Amazon Video Shorts library of content. When products are associated to the videos themselves, it gives shoppers a direct path to a product pages to help drive traffic and consideration.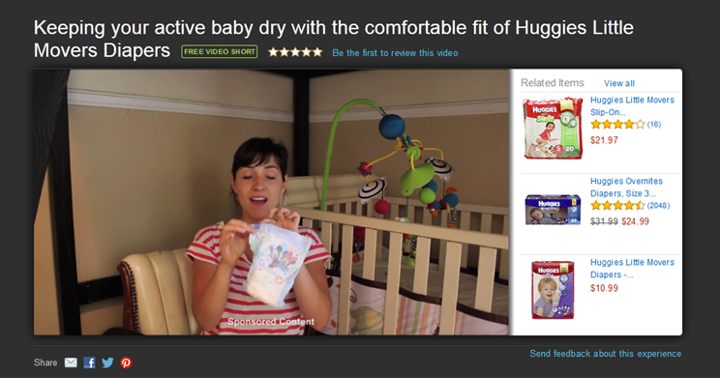 When you work with gen.video, you can rest assured that any influencer marketing campaign will deliver only the best influencer videos from talented YouTube creators. But we don't stop there… we believe that your brand sponsored videos deserve an even bigger audience. We will make sure your product videos are distributed to Amazon Video Shorts where they will be indexed and discover-able in search and associated to the products featured in the videos so that they show up on the product pages too.
And let's not forget about consumers.
Amazon is becoming a one-stop shop for … well just about everything! So you can now watch a how-to video on a laptop before making a purchase and if you are trying to decide between different diapers you can hear what a few moms have to say by watching an influencer video before clicking add to cart. We know that moms are going to YouTube to look for all types of information before shopping and so if you can provide that same powerful influencer video content on an eCommerce site you are providing her with content and making it easier to do product research and ultimately decide what product is right.
And we couldn't be more excited to be sitting in the middle of it all! Looking to see how you can get a product video, read more here. And if you are looking to see how you can get your video content live on Amazon.com read more here.