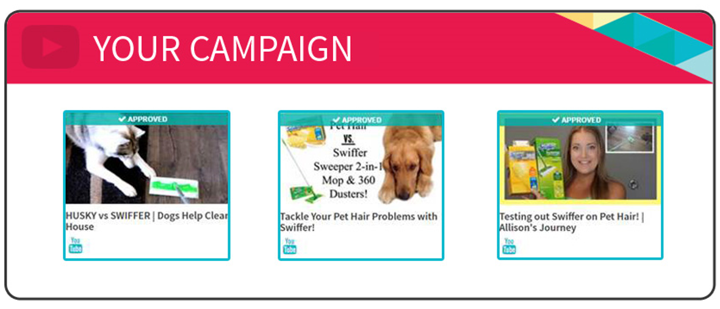 When people think of the autumn season it sparks thoughts of cozy sweaters, pumpkin carving and falling leaves but to those of us in the ecommerce world, fall is synonymous with holiday shopping. Since we are the one-stop-shop for ecommerce and influencer video, we're enhancing our platform and tools to help ease the chaos of the holiday season for our clients.
Starting with the campaign itself – we've launched the Campaign Page! Clients can now watch their campaign travel from fruition to completion, all while holding all the videos, communication, and nitty gritty details of the campaign in one spot. This will allow our clients to view a snapshot of the campaign and what stage it's in – giving the amazing content from our creators a place to stand out. Another cool feature of this new campaign page is that clients can now bookmark their campaign on their browser for easy access to the campaign workspace.
So what's in the new campaign page? Obviously, the creators who are in the campaign and their content, but also some more visibility into the behind the scenes creation of a campaign from start to finish.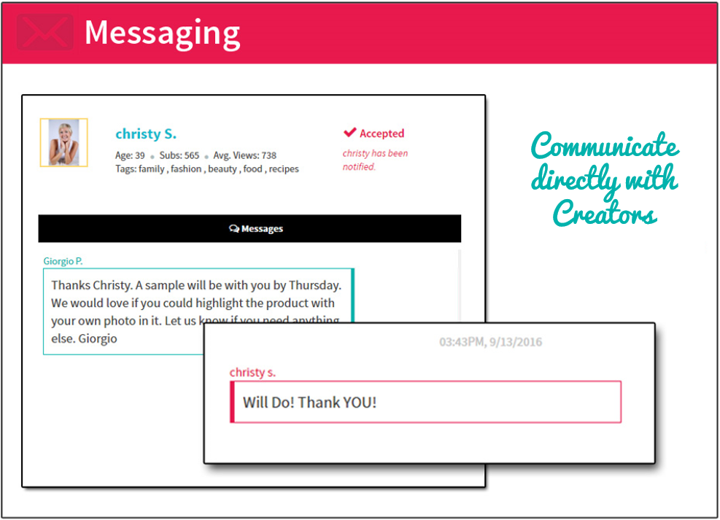 This is a particularly awesome feature for our self-service clients who communicate directly with creators. Gone away are the days of back and forth emails about shipping information, product details, and video upload dates. It can all be organized within the campaign page. Both the self-service client and creator will still receive email notifications that they have a message waiting for them in their dashboard, but now it's easy to keep communication relating to a campaign where it belongs.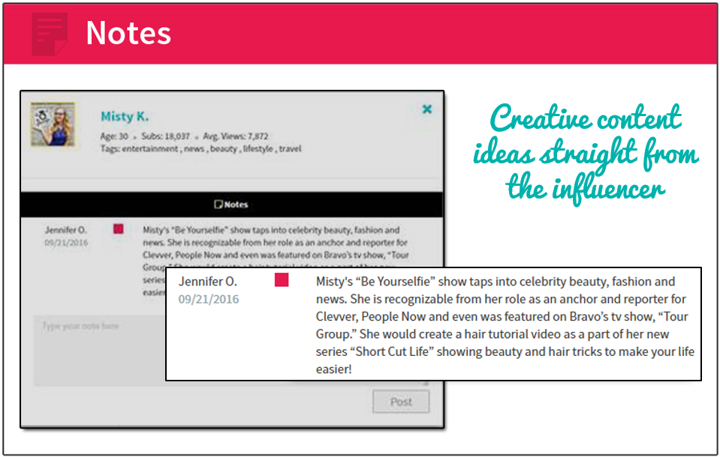 When looking at your list of applicants for your campaign or taking a glance at the lookbook delivered to you by your Account Manager, you want to be able to remember what you loved about the creator when you first checked out their channel. Now, not only will you be able to keep notes for you and your team members when making the decision about who is the best creator for your campaign, but also this section will hold the creative concepts, ideas or pitches the creators are suggesting for their content. Take advantage of this section to see beyond their channel and gain insight into why the creator is so excited about the campaign.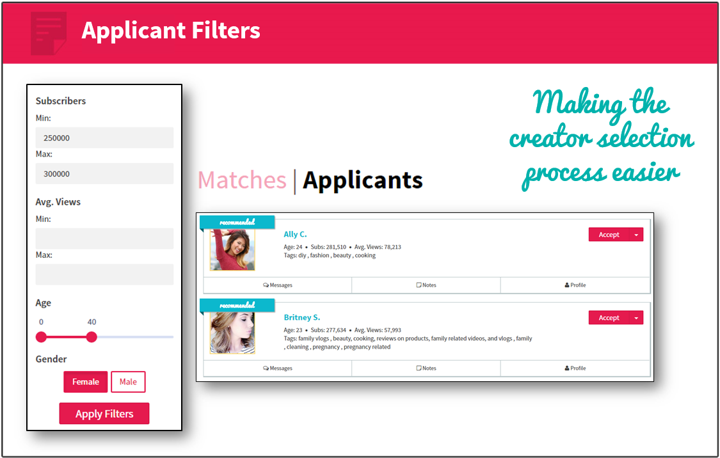 Looking for an applicant that has a certain number of subscribers? Is your product typically geared towards moms? It's great when your Offer is applied to by our varied community of creators, but when you have a few pages of applicants to sift through it can be overwhelming. We're making it easy for you to narrow down the demographics of who could be a right fit by adding filters to this section so you can pinpoint exactly who you want for a campaign.
We plan on keeping these updates and enhancements coming so that campaign visibility and organization is consistent for both our clients and creators – don't worry, we'll be sure to let you know so you don't miss a thing from our platform.