We launched YouTube Sync last month and since then our awesome creator community has synced over 1,000 videos! To a Product Manager, like myself, that's awesome. Awesome because it means people are actually using a brand new feature. Most times we work on updating or enhancing a feature in the platform and it can be difficult to validate your work.
We know there are other platforms out there that allow creators to make money from sponsored videos, we do the same. But we want to differentiate ourselves and provide some more value add to content generators. So we launched this feature with the hope that we could help our creators make more money from their videos by adding affiliate links to their content that is already on YouTube.
So how does this work? Pretty simple: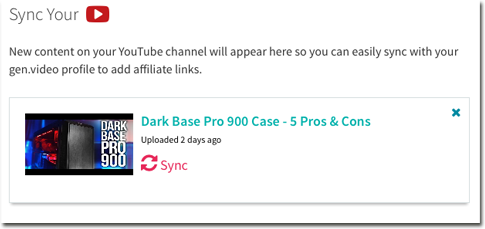 STEP 1
As soon as you sign in, your Dashboard will display your most recent YouTube videos.
Click on the video you want to monetize and add your gen.video affiliate tag to.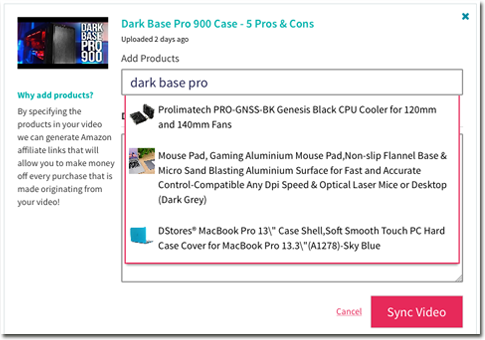 STEP 2
The video will expand and you'll get a search field. This field will allow you to search for Amazon products that might be in your video.
When you select a product, we'll automatically create a unique link to that product with your affiliate tag and insert it into the Description section of your video. Add as many as you like.
The last step is to click Sync Video and we'll update your YouTube video with the products links.
That's it!
You can start earning affiliate revenue from almost any video in your YouTube channel. It almost doesn't make sense NOT to do this, because just by being part of the gen.video affiliate program you will earn higher rates than directly from Amazon. On average users have seen at least a 20% bump by using our platform for affiliate links. Best of all all our users are in the program as soon as they sign up(if state law prohibits).
So go sign in and start syncing your videos!