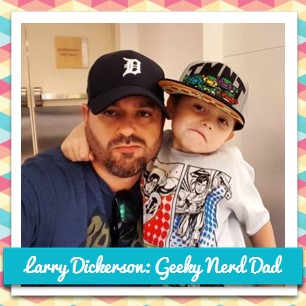 Meet Larry – our gen.video July Influencer of the Month! Not only is he a tech guru, but he's also a family man who loves to feature his wife and kids in his product reviews and unboxing videos. He is super active in the YouTube community and loves collaborating and interacting with fellow tech creators. A big reason why we chose to highlight him is because he is super flexible and easy to work with while still staying true to his personal brand – clients love his family-first attitude and natural personality that always translates throughout his videos.
We asked him to answer a few questions about himself and his time as a YouTube influencer.
What are some fun facts we might not know about you?
I'm obviously a super geek and love technology but what I love more than that is introducing my kids to technology and seeing their faces light up when I show them something cool that is sent in for a video. I also love getting them on camera and my 6 year old Miles has his own YT channel and LOVES making videos. So it's an awesome thing to see your children developing the same passion you have for technology and creating videos.
What made you want to become a content creator?
I always loved photography and I wanted to get into video so I started making You Tube videos long before the Geekynerddad channel and then that transitioned into tech and now i just try to make videos when I want and about stuff I really find fun and useful.
What advice would you give to someone that is just starting out?
Just start, don't wait until you have a great camera and equipment just press record and the rest will come in time.
Why do you use gen.video?
I love the products that I am introduced to through them as well as the fun i have had making the videos, I have done a lot of videos for them and more than a few with my kids and that is always a blast.
Favorite campaign?
I have to say the Serta bed and mattress, it was so different for my channel and I loved working with my wife on the videos.
As you can tell, Larry is so much more than just a tech and gadget YouTube influencer – he takes his videos a step beyond the typical review and adds personal touches that his viewers (and gen.video!) love about him. We can't wait to see what programs and videos he'll produce next.
Be sure to subscribe to his channel and add him on other social media pages so you don't miss a thing from Geeky Nerd Dad!