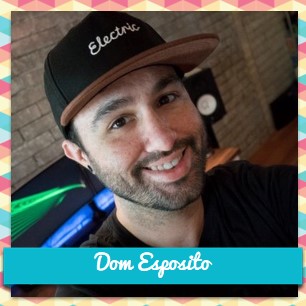 Meet Dom – our January Influencer of the Month! He creates epic tech reviews and unboxings on everything from the latest smartphone to autonomous tech. He started his channel 6 years ago to share audio production tutorials for his friends to reference and has since expanded his coverage and channel community to almost 400K subscribers. Brands like HP and Meccano have loved his high quality tech videos that are informative but still fun and personable. He is also becoming a tech auto expert through partnerships with Panasonic and Hyundai. Dom was one of the influencers we partnered with at CES to help us cover top tech for new YouTubers. He has been a very helpful brainstorming creative concepts and sharing the gen.video message at CES and beyond. We always enjoy working with Dom and look forward to future partnerships!
Watch these videos now, and learn more about Dom and his YouTube content!
What made you want to be a content creator?
I never intended on becoming a content creator. I really just started putting audio production tutorials on YouTube to keep busy and help my friends (instead of having them ask me each time they had a question.) From there, it kind of just snowballed into mainstream tech and gained some traction.
What advice would you give someone that is just starting out on YouTube?
The best advice I can give to a new creator is to have passion and determination. For the most part, these things don't happen overnight. For myself, it was literally years of hard work, but I loved every second of it. Keep doing what you love and the rest will follow.
What are some reasons you use the gen.video platform?
I'm a big fan of the gen.video platform for a couple of reasons. First, it's very easy going. I love how responsive the staff is and how curated the campaigns are. It makes a big difference in the long run. I also enjoy the people. A company is only as great as those who run it. Gen.video far exceeds my expectations.
What has been your favorite gen.video program/product so far?
I was absolutely in love with the HP Omen X video. This gave me a chance to really be creative and come up with a beautiful gaming desk setup. I'm a creative person, so it's great to have such control over the details and create not only a desk for one video, but a setup that will live on and be enjoyed around my studio. I worked really hard to get every detail right on this video and I'm proud of what was created.
Another one of my favorite videos is definitely the 4K Set Top Box campaign I did with NVIDIA. It wasn't on the gen.video platform, but it's certainly up there as what I like to think is one of the best videos I've made. The shoot was done at an airplane hangar and we had two full days to really put together a very engaging piece of content. It was a lot of work, but it paid off visually in my mind.
Be sure to subscribe to his channel and his other social media pages below so you don't miss a thing from Dom!