With all the news around top advertisers (including J&J, AT&T, Verizon, PepsiCo, Walmart, Volkswagen and Starbucks) pulling advertising dollars out of YouTube, we wanted to provide our point of view for how brands can leverage YouTube for its greatest strength – a proven platform for authentic brand storytelling.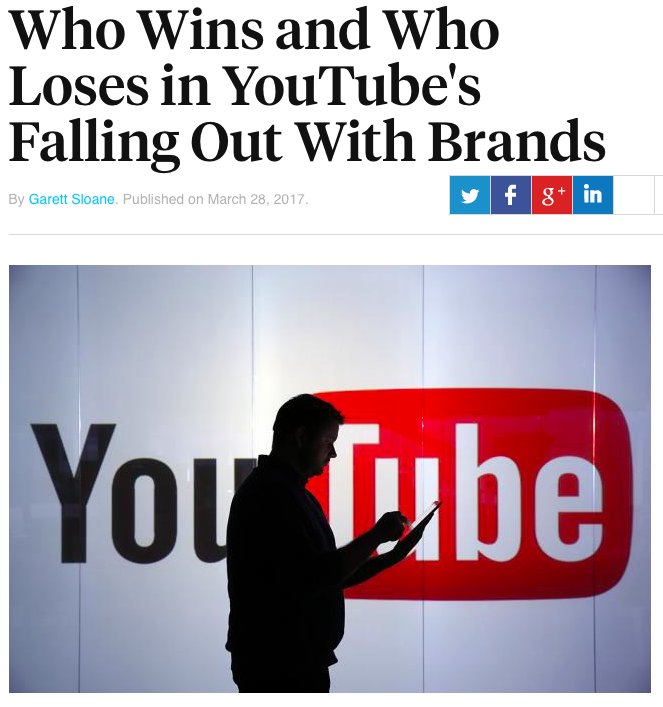 If a picture is worth a thousand words, what's a video worth?
YouTube is still a highly viable marketing channel for advertisers to tell their brand stories cost effectively, and at scale, through a highly trusted source – peers. eMarketer reports that monthly watch time on YouTube grew 60% from 6B-9B+ Hours. It's no wonder that marketers are focused on influencer marketing. In our Q4 brands study, 2017 Influencer Marketing Brand Trends, we noted that for the first time YouTube had surpassed Facebook and Instagram as brands top priority social channel (68% vs. 67% and 64% respectively). The majority of brands in the study (82%) will be investing more in video in 2017. Many brands are experiencing significantly higher engagement with YouTube influencer marketing, driving significant traffic to ecommerce pages to "Buy Now" and higher sales conversion.
Brand Trust
According to Nielsen, more than 84% of consumers trust peer-to-peer recommendations (even from people they don't know) over brands and celebrities. YouTube Creators have built up highly engaged audiences (and very successful businesses) based on the being a source for authentic, credible video content for everything from inspirational stories to product reviews, how to's and life hacks. Their channel is their brand and their subscribers are their greatest asset. The combination offers brands across multiple verticals (consumer goods, beauty, consumer electronics, gaming, pet care, baby, etc.) the unique opportunity to work with YouTube Influencers to have brand stories told in an authentic voice to highly desirable engaged audiences.
Whether executing Influencer Marketing on your own or through a trusted partner, it is critical to have a well-established relationship with the influencers and an in-depth knowledge of their subscriber base. What types of content is an influencer known for that keeps their audiences engaged and loyal leading to new affinities for brands grounded in a value exchange based on authenticity and trust?
Reach, Scale
Subscriber bases are growing rapidly – offering brands more opportunity to get their message in front of large, engaged audiences. Some of our recent campaigns have scaled to over 1MM views in the first two weeks from going live, challenging the views performance of traditional video advertising.
Not all Influencers are created equal. Brands and their agencies need to have the ability to navigate the myriad of different channels available. Channels range from micro influencers up to "YouTube Celebrities" with subscriber bases over 1MM, have their own talent agents and high cost of content. Biggest is not always best. Often channels that are up and coming can provide the best value.
Many brands ask us whether they should implement their Influencer Marketing Strategy with micro influencers or fewer bigger influencers? There is no boilerplate answer. Each initiative should be carefully planned based on brand objectives, product dynamics, budget, diversity of target audience, etc. to determine the right mix. It's not just about the size of an Influencer's following, things to consider are performance history, brand fit, audience composition and what types of content resonate best with their base. Establish ROI goals based on targeted reach, views, engagement, clicks, etc.
Performance
Go beyond reach and views and establish benchmarks and best practices for engagement, optimal video length, type of content and CTRs for calls to action. Done right, Influencer marketing can have impact through the funnel from awareness and consideration through to increased sales.
We've found that engagement rates on YouTube can be two-three times higher than that of Facebook and 3% CTRs to "Buy Now" on average and lifts in sales conversion by 30%.
Summary
We are passionate about the potential YouTube offers marketers of all sizes. It's not whether to use or not to use, but HOW to use YouTube as platform to communicate brand stories with target audiences in a new exciting ways to drive awareness, consideration and sales.
The power of YouTube is not just about views, it's about connecting to engaged passionate audiences thru their most trusted source – peers.