Adding new influencers to an existing influencer marketing campaign.
1. Navigate to the campaign workspace.                                   Once there, you'll see influencers that you originally added to your campaign.  Simply click on the 'Edit Campaign Details' link in the top left corner to open up the admin section where you can add more influencers, change post details, among other things.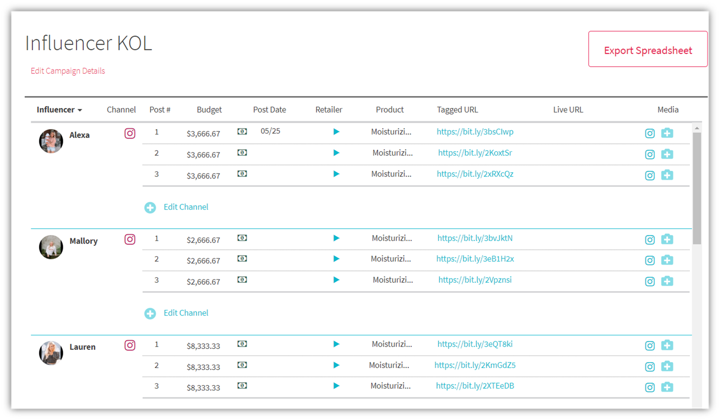 2. Go into Edit Campaign Details Section                               When you are in the campaign editor you'll need to click into the tab labeled 'Influencers' where you'll see the existing influencers that you've assigned into the campaign. This is where you can add more influencers. Simply click on the 'Add New' button in the bottom right corner of this page.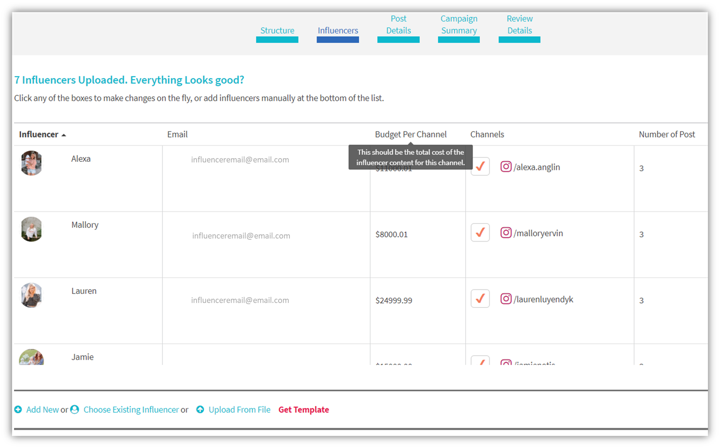 3. Add Influencer Information In Modal Window                   From here, you are able to individually add more influencers to your campaign.  Fill in the required fields and click 'add'.  If it is a new channel to our software, some of the profile images and other metrics will populate within 24 hrs.  Otherwise, you should be good to go.  Add as many influencers as you'd like here.  If you have more than a couple, you might want to consuder the Upload from File option.  This allows you to batch upload and is easy to do by using the Template provided.